Create beautiful Bag Tags with Artesprix Sublimation Markers!
Design Bag Tags using Iron-on-Ink Sublimation Markers & Ink Stamp Pad
Hello, my crafty peeps! Maria Russell on the blog with you today and it's my turn to share another fun project using Sublimation markers to create your own Plastic Bag Tags!
I am sharing a process video today to share some tips on how to get a clear impression of your images. The first Bag Tag that I made didn't turn out quite the way I wanted so I made two total for this project. I think it will be good for you all to see a comparison. I created a second one to show you the difference between the two bag tags.
Materials:
Tools:
Step-by-step Tutorial:
Step 1.
First, place the Bag Tag on a piece of plain copy paper and trace the outline using a pencil. By tracing this will determine the area that you have to work with. Pencil does not transfer through to your Plastic Bag Tag blank.
Step 2.
Mount your stamp on an acrylic block (or stamping tool) and stamp the image on the copy paper using Artesprix Sublimation Ink Pad. Repeat this process for the rest of the images that you need to use for your bookmark.
Helpful TIP No. 1: Stamp the sentiment first and trace using the Fine Point Sublimation Marker in Black before coloring the image. Use a heating tool to speed up the drying process before coloring everything to avoid bleeding on your images.
Step 3.
Next, color your stamp design using your Iron-on-Ink sublimation markers. I used the Artesprix Original, Gnomie Botanical, and Pastel Sublimation Markers to color my images. The colors may look a little muted after the colors are transferred the color will become very vibrant.
Step 4.
Using Artesprix Heat Tape and tape your blank down to your design. If you are using the Artesprix Heat Press, you only need one on each side to hold it down. If you are using an iron, you will need more. Sometimes the iron will cause the image to slip and you will get a ghost image. [Only use Artesprix Heat Tape on the outer edge of the design (not over it).]
If using an Artesprix Heat Press for this Plastic Bag Tag project, set the temperature to 400 degrees Fahrenheit and timer to 45 seconds. If using a dry iron, set to linen or highest setting. [For a home iron, set to linen and "no steam." Note: The holes in your home iron do not allow the heat to pass through evenly.]
Step 5.
Now, it is time for a sublimation sandwich. Cut two pieces of Protective Paper to cover your project on the top and bottom. Place it inside the Heat Press and close the machine.
Step 6.
The Heat Press will beep indicating that your project is finished! While wearing protective gloves lift the handle and take your project out. Place it on top of the project mat and wait for about 20 minutes to cool down.
Step 7.
Gently remove the paper from the Bag Tag to reveal the design.
As you can see, I didn't get a good impression of the sentiment for the first bag tag. The second one transferred much better.
the difference between the First and Second Plastic Bag Tag.
I love being able to stamp or draw and color my designs on a plain piece of paper and transfer onto a blank to create a unique DIY project!
Helpful TIP no. 2 – If you are using an image printed out using your laser printer (traced using your sublimation marker), make sure to use the heat tape to "cover" any image or marks that you don't want to get transferred onto your blank. Take a look at the photo below:
For Tag No. 2, I used the Photopolymer Stamps – Hand Lettered Basics for the back of the Bag Tag.
The back of the second tag is what's shown on the right in the photo below:
I absolutely LOVE the second tag and am quite happy how it turned out and I think it looks really cute! Go the extra mile and add mixed media to your blank. I am planning on adding some iridescent gemstones to cover the bubbles and make it look 3D. For that, I think I will have to use a strong adhesive like E-6000. I will let you know how it turned out.
Here's my process video:
You will find all the blanks available for purchase on the Artespix website. The supplies are listed and linked below. Thank you for stopping by and happy crafting!
—————–SUPPLIES ————-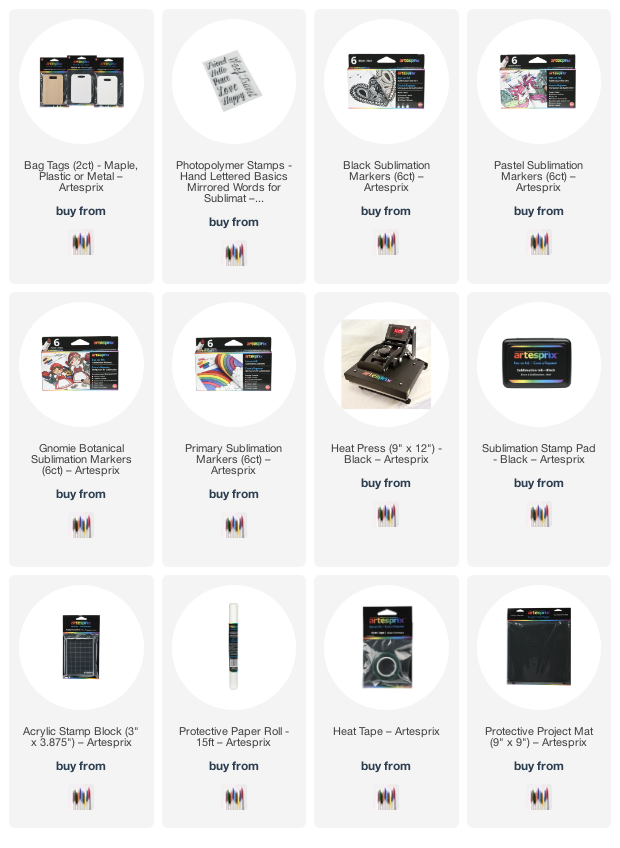 The post Plastic Bag Tag made with Iron-on-Ink appeared first on Artesprix.