Artesprix Sublimation Poly-Canvas Zip Case – Be A Unicorn!
Create A Cute D.I.Y Make-up bag using Artesprix Sublimation Markers
Learn how to design a beautiful mixed media Unicorn Poly-Canvas Zip Case!
Maria Russell on the blog with you today. Back with another fun project, using Artesprix's sublimation markers and ink pad along with their amazing Artesprix Sublimation Poly-Canvas Zip Case blank.
Here's what you'll need to create the project.
Materials:
Tools:
Step-by-Step Tutorial:
Step 1.
Place the Poly Canvas Zip Case on a piece of plain copy paper and trace the outline using a pencil to determine the area that you have to work on.
Step 2.
I free-handed my rainbow using Artepsrix Pastel Sublimation Markers.
Step 3.
I traced the Unicorn's ears using a pencil and the coordinating die that came from the stamp set.
Step 4.
I used my Artesprix Fine Point Black Sublimation Marker to draw the Unicorn's ears.
Step 5.
I placed my design inside my stamping tool to stamp the rest of the images, using the Artesprix Sublimation Stamp Pad.
Step 6.
I Placed my design on the light box to trace the sentiment using my Sublimation Marker.
Step 7.
It is important to use a lint roller to remover to remove any unecssary particles on your blank before pressing. This will ensure a clean crisp design transfer to your Artesprix Sublimation Poly-Canvas Zip Case.
Using Artesprix Heat Tape, tape your blank down to your design. [Designer tip: I used my LED light box to make sure that my images are perfectly centered. ] If you are using the Artesprix Heat Press, you only need one on each side to hold it down. If you are using an iron, you will need more. Sometimes the iron will cause the image to slip and you will get a ghost image. [Only use Artesprix Heat Tape on the outer edge of the design (not over it).]
Step 8.
Turn your heat press on and set the temperature to 400 degrees Fahrenheit and the timer for 45 seconds.
Step 9.
Create your sublimation sandwich. Cut two pieces of Protective Paper to cover your project on the top and bottom. [Designer tip: Make sure that your design is facing the heat source and the zipper is out of the way before you heat press.] Place it inside the Heat Press and close the machine. The Heat Press will beep indicating that your project is finished!
Step 10.
While wearing protective gloves lift the handle and take your sublimated Artesprix Sublimation Poly-Canvas Zip Case. Place it on the Protective Project Mat and give it a few minutes to cool down. Gently remove the paper to reveal the design!
Step 11.
Next, I wanted to add some, "bling." My super-strong mixed media glue allowed me to adhere them onto the zip case and let me add to the gold bow to finish my design.
Adding the rhinestone jewels to the flowers was the perfect touch.
The Sublimation Markers blended so well to create the pastel rainbow! Here's a closer look:
I cannot wait to create some T-shirts and Pet Bandanas! I really love how this one turned out!
Join in the Iron-on-Ink Fun!
Love this Artesprix Sublimation Poly-Canvas Zip Case project? Join the Iron on Ink community on Facebook for more project ideas and to share your own creative iron-on ink projects.
Don't forget to save this to Pinterest and share with all your friends!
If you like this project, you need to check out Gina Knuppenberg's Mixed Media Bag Tags!
You will find all the blanks and other supplies available for purchase on the Artespix website. Thank you for stopping by and happy crafting!
**The links below are affiliate links. If you decide to make a purchase, you are supporting today's post writer at no extra cost to you, thank you! These products are endorsed by the author and we hope you'll love them, too.
———SUPPLIES———-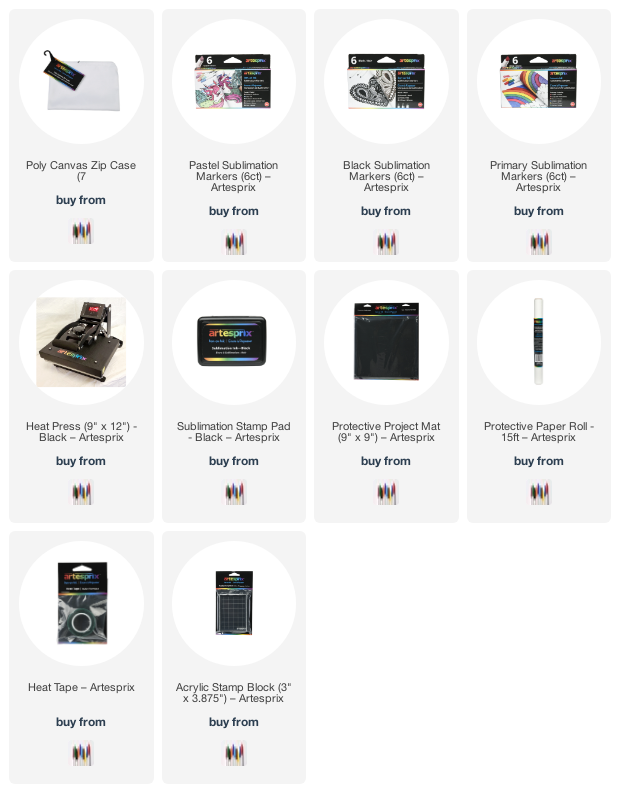 The post Artesprix Sublimation Poly-Canvas Zip Case – Be A Unicorn! appeared first on Artesprix.
Leave a comment